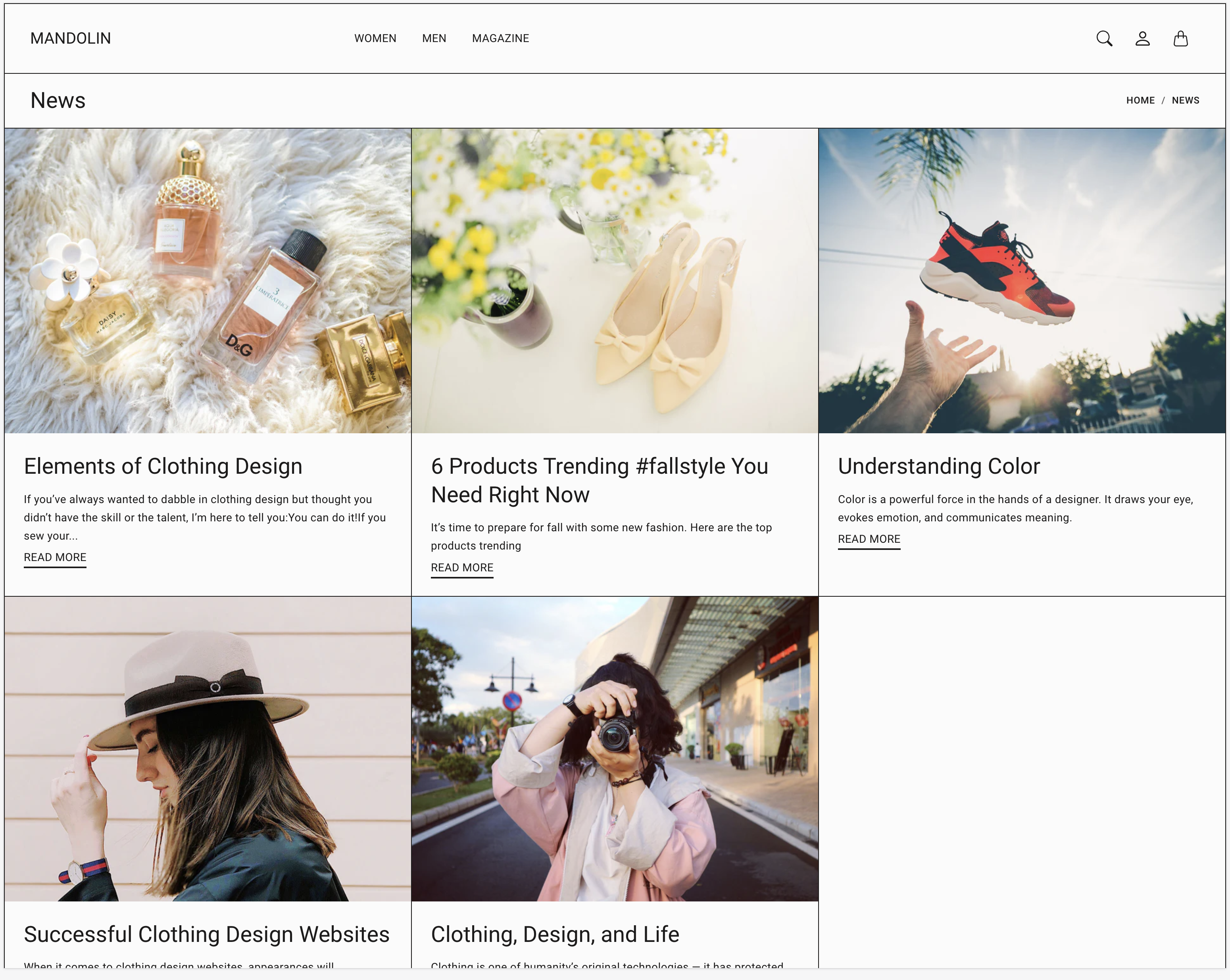 Overview
Blog pages are the homepage for any blogs that you create within your Shopify admin.
Guidelines
Customize Blog
Steps:
From your Shopify admin, go to Online Store > Themes.
Find Mandolin theme that you want to edit, and then click Customize.
You need to open up any blog, from inside the theme editor area, or select the Blogs from the dropdown at the top.
Section settings
By default, they contain a Blog posts section.
The blog posts section displays the latest blog posts within the blog. Each blog posts displays any blog image, the blog title, and either the excerpt or the first few words of the blog post.
Setting
Description
GRID
Products per page
The number of products that you want to display on each page. Can be any multiple of 4, from 8 to 48. Defaults to 18.
Number of columns on desktop
Use the range scale to select the number of columns that appear on desktop computers. Minimum is 2, maximum is 6.
Number of columns on mobile
Set a specific column layout for mobile devices. Choose between 1 and 2 columns.
ARTICLE CARD
Featured image ratio
The ratio for the featured image:

Adapt to image - Uses the aspect ratio of the images. This prevents the images from being cropped.
2:3
3:4
1:1
4:3
16:9
21:9

Card alignment
Choose the alignment of the section heading. Options are Left, Center and Right
Show content over image
Check the checkbox to make the text display above the article feature image.
Show article category
The first article's tag is used as the main category.
Show description
Checked to show article description.
Show read more
Checked to show read more label.